FLAME IN THE MIST
RENEE AHDIEH
GENRES/ SUBJECTS: YA, HISTORICAL FANTASY
★★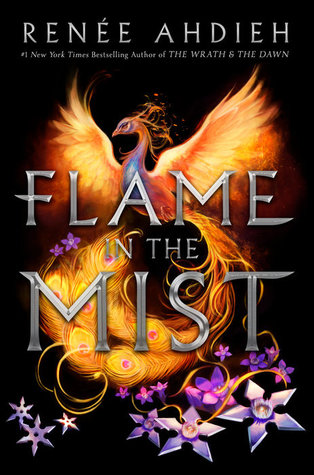 The only daughter of a prominent samurai, Mariko has always known she'd been raised for one purpose and one purpose only: to marry. Never mind her cunning, which rivals that of her twin brother, Kenshin, or her skills as an accomplished alchemist. Since Mariko was not born a boy, her fate was sealed the moment she drew her first breath.
So, at just seventeen years old, Mariko is sent to the imperial palace to meet her betrothed, a man she did not choose, for the very first time. But the journey is cut short when Mariko's convoy is viciously attacked by the Black Clan, a dangerous group of bandits who've been hired to kill Mariko before she reaches the palace.
The lone survivor, Mariko narrowly escapes to the woods, where she plots her revenge. Dressed as a peasant boy, she sets out to infiltrate the Black Clan and hunt down those responsible for the target on her back. Once she's within their ranks, though, Mariko finds for the first time she's appreciated for her intellect and abilities. She even finds herself falling in love—a love that will force her to question everything she's ever known about her family, her purpose, and her deepest desires.
I read Flame in the Mist as a part of #AsianLitBingo, but it's taken me a while to come up with a rating and review. I almost DNFed this book a few times, but still didn't think it was 1-star bad. It was more than once I put it down I had little motivation to pick it up again. Maybe I just don't connect to Ahdieh's stories. Her writing is beautiful, but I didn't love The Wrath and the Dawn the way other reviewers seemed to either. And I still haven't picked up The Rose and the Dagger.
NOTE: There are two really inciteful #ownvoices reviews available on Goodreads discussing Japanese rep, cross-dressing and historical accuracy. You can read Michiko's here and Airy Reads' here. They discuss a few issues which I had, but far more eloquently that I could, so you should read them too.
Mariko – Mariko is the stereotypical Strong Female Character who is 'not like other girls' (she even says it at one point). Except she's not even all that Strong. I did have moments where I found Mariko interesting and compelling (surviving the massacre and attacker, designing weapons, her conversation with Yumi) but overall I found her too bland to really root for. I did like her relationship/ romance with Okami, and was really glad that for once there was no love triangle in this YA.
Feminism – Flame in the Mist was touted as being really feminist and to be honest, I failed to see it. Aside from Mariko, there's one secondary female character and a couple of minor ones. I actually found Amaya and Kanako far more compelling women, but one dies to provide a man's motivation for vengeance and one has about a paragraph of screentime. The female characters were far fewer, and far less developed than the men.
Pacing – I really thought this book dragged. For me, the really interesting developments to Mariko's character and plot-line didn't kick in until about the 70-75% point. At that point, I really did enjoy it but I think that the first half of the book could be massively cut without hurting the story. Maybe having one longer book instead of a duology? It also felt plotwise that the whole book was just a set-up for the sequel.