MONSTERESS VOL.1: AWAKENING
MARJORIE M. LIU & SANA TAKEDA
GENRES/ SUBJECTS: ASIAN PROTAGONIST, GRAPHIC NOVEL, #OWNVOICES, ADULT
★★★★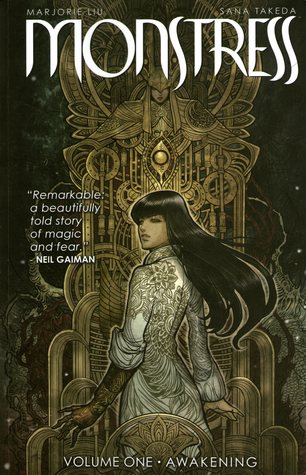 Set in an alternate matriarchal 1900's Asia, in a richly imagined world of art deco-inflected steampunk, MONSTRESS tells the story of a teenage girl who is struggling to survive the trauma of war, and who shares a mysterious psychic link with a monster of tremendous power, a connection that will transform them both and make them the target of both human and otherworldly powers.
This graphic novel is fascinating, but definitely not for the squeamish. It's dark and gritty, and you can't trust anyone.
There's quite a lot of complicated post-war world building and a cast of almost entirely morally grey characters. Maika is a fascinating main character. She's full of inner turmoil and repressed memories, and emo as heck, but you can't help but root for her, even when she's mid–slaughter. It doesn't hurt of course that the enemy she's up against is an evil order of nuns who deal in slavery, torture, medical experimentation and murder. Who doesn't want them dead?
As much as I loved Maika for her badass-heroine-ism, my favourite character is this little fox-cub girl, Kippa. She's truly adorable and I want to hold her and keep her safe from everything in this brutal world. Even though she's terrified for most of the volume (of Maika as much as the evil-nuns) she sticks with Maika and shows true bravery and friendship.
The artwork throughout the volume is stunning, which just makes some of the horror's even more disturbing. There's a wonderful amount of detail and linework in some of the Art-Deco inspired settings, while the characters each have unique designs and beautifully (or hideously) rendered and expressive faces. The story, overall, has a very sweeping, epic-fantasy feel to it, and the plot promises to become far more complicated, full of twists and turns and unveiled secrets. The steampunk elements are a woven through the rest of the story and the artwork blends the Asian, Art-Deco and Steam-punk elements together so as no one stands out and overshadows the others.
While this isn't a light-hearted story or an easy graphic novel to read (both for the subject matter and the depth of the background information, it took my far longer to read that other graphic novel's of a similar length) it's really good. As long as the violence and subject matter don't put you off, I'd recommend this to any fan of graphic novels in general or to non-fans looking for something they can really get their teeth into, meatier than what the average graphic novel provides.