WRITTEN IN THE STARS
AISHA SAEED
GENRES/ SUBJECTS: CONTEMPORARY, YA, #OWNVOICES
TW: RAPE, FORCED MARRIAGE
★★★☆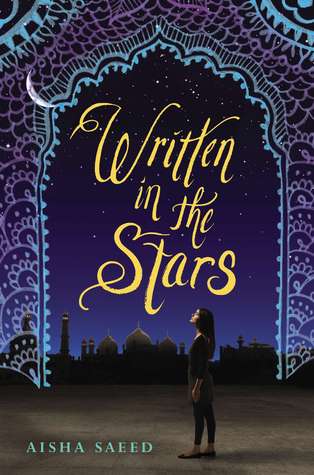 Naila's conservative immigrant parents have always said the same thing: She may choose what to study, how to wear her hair, and what to be when she grows up—but they will choose her husband. Following their cultural tradition, they will plan an arranged marriage for her. And until then, dating—even friendship with a boy—is forbidden. When Naila breaks their rule by falling in love with Saif, her parents are livid. Convinced she has forgotten who she truly is, they travel to Pakistan to visit relatives and explore their roots. But Naila's vacation turns into a nightmare when she learns that plans have changed—her parents have found her a husband and they want her to marry him, now! Despite her greatest efforts, Naila is aghast to find herself cut off from everything and everyone she once knew. Her only hope of escape is Saif . . . if he can find her before it's too late.
I originally rated this book a four on instinct but I had a couple of issues which made me drop a half star the more I thought about it. I'm not totally sure why I bought this book, it was a while ago, and it's really not my usual thing, but I'm glad I did. It's a real page-turner, that kept me up to read 'one more chapter' again and again.
Naila, the protagonist, was incredibly relatable. A girl who, through no fault of her own, ends up in a terrible situation she's powerless to change. As things get worse and worse, Naila's character really shines and you desperately want her to come out on top. This story could easily have painted everyone in the Pakistan parts of the story as a villain and I'm glad there were other characters on Naila's side, like Imran and Selma. Saeed has a lovely writing style and the descriptions are wonderfully vivid. The clothes, marketplace and food all jump off of the page, drawing you into the setting. The action is fast-paced and the plot moves quickly.
My first criticisms are actually nothing to do with the story, but with the blurb. It kind of gives away what's clearly meant to be a twist – that her parents plan to marry her off against her wishes. This made the lead-up drag, because the tension was all gone. The cover also markets this book as a love story, which it's not. There is a romance subplot and yes, it moves the plot, but this is a story about Naila – a life experience story, I guess. This is especially odd as, if anything, I felt that there was a lack of chemistry between Naila and Saif. It would have been better if we had seen more of them together in the U.S. at the beginning, either at school or prom.
My main problem was a rape scene which (to me) felt out of character for what we had seen of that character so far. Even accounting for the idea that this was because Naila didn't see it coming, it served no purpose in the story and then was too quickly brushed under the rug and the attacker forgiven for my comfort. After some discussion, I also think that there should have been a clearer distinction made between arranged marriage and forced. There's a bit in the author's notes but not the book. Perhaps Naila could have known someone, either in the U.S. or Pakistan in a happy, healthy arranged marriage?
This is a fast-based, vivid, emotionally brutal story but I felt it dragged a tad in places and rushed over important scenes in others.