THE EDGE OF THE ABYSS


AUTHOR: EMILY SKRUTSKIE
SERIES: THE ABYSS SURROUNDS US, #2
GENRES/ SUBJECTS: SCIENCE-FICTION, PIRATES, ROMANCE, LGBTQIA (F/F)
★★★★★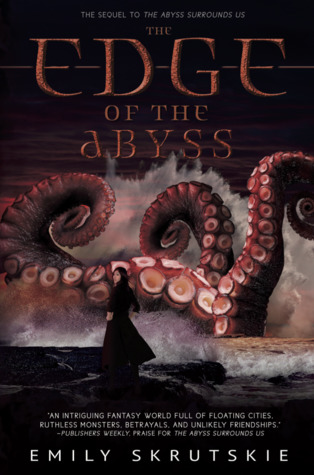 Three weeks have passed since Cassandra Leung pledged her allegiance to the ruthless pirate-queen Santa Elena and set free Bao, the sea monster Reckoner she'd been forced to train. The days as a pirate trainee are long and grueling, but it's not the physical pain that Cas dreads most. It's being forced to work with Swift, the pirate girl who broke her heart.
But Cas has even bigger problems when she discovers that Bao is not the only monster swimming free. Other Reckoners illegally sold to pirates have escaped their captors and are taking the NeoPacific by storm, attacking ships at random and ruining the ocean ecosystem. As a Reckoner trainer, Cas might be the only one who can stop them. But how can she take up arms against creatures she used to care for and protect?
Will Cas embrace the murky morals that life as a pirate brings or perish in the dark waters of the NeoPacific?
Guh! I love this duology so much! In a way, I want MOAR of the characters and the world, but I know it's totally the perfect length. So, I'm so conflicted.
I still love Cas and Swift. I love how brave they both are, how selfless and determine, especially for pirates. I love how bad they both are at expressing their feelings and I love how cute they are together. I love that they're still not totally-in-love, hearts-and-flowers at the end.
There are even more action and fight-sequences in this book than the last, culminating in a battle scene worthy of the biggest budget Hollywood blockbuster (I want it, btw). It was amazing to see all the different new Reckoners, and nothing could be cooler than pirates vs sea monsters. I was relieved to see Bao again and I felt even more justified in loving my 'little shit' this time around.
I love that the ending stays true to the world that author has created. There are consequences for Cas' actions in and it manages to give a realistic ending balancing out the relationship resolution (yay for no kill-your-gays/ our-love-can-never-be) with allowing for the fact that Cas' life can never go back to what it once was.
… Maybe just a sequel or two? Please?