THAW
AUTHOR: ELYSE SPRINGER
SERIES: SEASONS OF LOVE, #2
GENRES/ SUBJECTS: ROMANCE, LGBTQIA (F/F, ACE)
RATING: ★★★★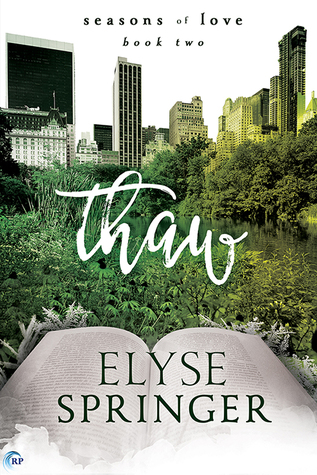 Abigail is content with her quiet life as a librarian. But when she's invited to a high-profile charity auction, she finds herself dancing with one of the most beautiful women she's ever met. Abby's sure she'll never see her again, but then Gabrielle calls and asks her on a date. And soon after, another.
Supermodel Gabrielle Levesque has a reputation as the Ice Queen—cold and untouchable—except she warms up whenever she's with Abby. Only Abby isn't interested in the heat between them; she's asexual, and she's worried that admitting as much to Gabrielle might spell the end of their blooming romance.
They're two different women from two very different worlds, but Abby knows she can love Gabrielle. Her passion for books, travel, and theater prove there's more to the Ice Queen than meets the eye. But they'll have to overcome Abby's fears—and Gabrielle's own threatening secrets—in order to find their way to love.
---
❤️ I actually didn't realise that this was the second part of a series when I picked it up. Each book seems to be a standalone however with just a little character crossover, so don't let that put you off.
🥂I found the start of this a little hard going. The entire premise of the story is pretty much a standard romcom which you either like or don't, and I'm pretty meh on – the quiet, 'normal' person (who is, of course, also actually gorgeous) meets a stunning celebrity – and the characters' felt a little 2D.
👗 Around the 30-40% mark though the character had really grown on me and had a lot of depth. Abby's definitely the more sympathetic of the two, in my mind (practical, introverted) but Gabrielle has her moments of utter charm too, despite her 'Ice Queen' reputation. There's also a couple of interesting subplots: Gabrielle's mysterious and volatile personality, Abby's impending job loss and her developing relationships with her friends. I liked her relationship with her parents too, they nag her about her career choices but are actually supportive, she turns to her mother for relationship advice. I really enjoyed the settings in this too, Abby's library, Gabrielle's apartment, the food festival, even the trains… The city definitely feels like a character too.
📚 I knew this was an f/f story going in but I didn't realise Abby was asexual which was a nice surprise. To me (although I'm not ace and can't say for sure) this seem well handled and was discussed very openly. I liked that this wasn't a coming out or coming to terms story. Abby's comfortable and openly biromantic and ace. The story doesn't gloss it over, though, and shows how messy sexuality and relationships are.
⚡️ Plus: Harry Potter references. 🙂 Always a winner for me.