THE PRINCESS SAVES HERSELF IN THIS ONE
AUTHOR: AMANDA LOVELACE
GENRES/ SUBJECTS: POETRY, FEMINISM, NON-FICTION
RATING: ★★★★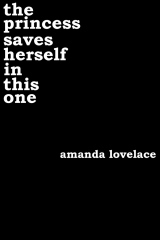 "Ah, life- the thing that happens to us while we're off somewhere else blowing on dandelions & wishing ourselves into the pages of our favorite fairy tales."
A poetry collection divided into four different parts: the princess, the damsel, the queen, & you. the princess, the damsel, & the queen piece together the life of the author in three stages, while you serves as a note to the reader & all of humankind. Explores life & all of its love, loss, grief, healing, empowerment, & inspirations.
---
Okay, confession. I don't read poetry, it's just not my thing. Off the top of my head, the only book of poetry I can remember enjoying was Carol Ann Duffy's The Worlds Wife (which I highly recommend). I've seen a lot of conflicting reviews around this one, mostly as to whether it really counts as poetry, and I'm in no position to judge that.
I picked up this book because I f'ing love the title. Just as shallow as choosing by the cover I know, but still. It wasn't at all what I was expecting, and not because of the layout style.
Firstly, it far darker than I thought it would be. Lovelace doesn't shy away from sharing some truly painful moments. There were some moments (I think in The Damsel section) where I honestly had tears in my eyes. And I'm an unfeeling monster. It feels very honest and emotional raw.
Second, the writing is really accessible. The metaphors are beautiful but also simple and easy to understand. I really like this, as I think it's sometimes that work involved in understanding poetry, that puts me off. The book is divided into four sections – The Princess, The Damsel, The Queen and You – and I think that this means there's something for everyone here. As I said, The Damsel made me really emotional, and there were pages in each of the sections that really spoke to me.
So maybe it's not for everyone, but you can read it in an afternoon. So even if — like me — you're not a poetry fan, I think it's worth a try because I think this one might surprise you.