A THOUSAND NIGHTS
AUTHOR: E K JOHNSTON
SERIES: A THOUSAND NIGHTS #1
GENRES/ SUBJECTS: RETELLING, FANTASY, PROTAGONIST OF COLOUR
RATING: 3.5*
I read this for the #12DaysofDiversity Retellings readathon. Features: Non-Western Stories and Myths, Protagonist of Colour.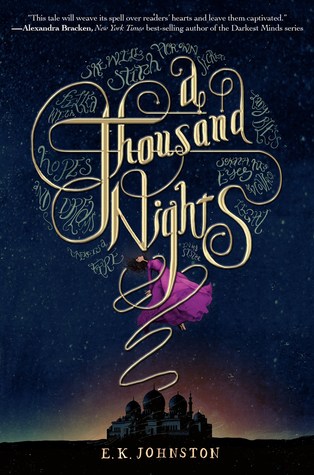 Lo-Melkhiin killed three hundred girls before he came to her village, looking for a wife. When she sees the dust cloud on the horizon, she knows he has arrived. She knows he will want the loveliest girl: her sister. She vows she will not let her be next.
And so she is taken in her sister's place, and she believes death will soon follow. Lo-Melkhiin's court is a dangerous palace filled with pretty things: intricate statues with wretched eyes, exquisite threads to weave the most beautiful garments. She sees everything as if for the last time. But the first sun rises and sets, and she is not dead. Night after night, Lo-Melkhiin comes to her and listens to the stories she tells, and day after day she is awoken by the sunrise. Exploring the palace, she begins to unlock years of fear that have tormented and silenced a kingdom. Lo-Melkhiin was not always a cruel ruler. Something went wrong.
Far away, in their village, her sister is mourning. Through her pain, she calls upon the desert winds, conjuring a subtle unseen magic, and something besides death stirs the air.
Back at the palace, the words she speaks to Lo-Melkhiin every night are given a strange life of their own. Little things, at first: a dress from home, a vision of her sister. With each tale she spins, her power grows. Soon she dreams of bigger, more terrible magic: power enough to save a king, if she can put an end to the rule of a monster.
I've seen this one compared, often negatively, to The Wrath and the Dawn. I actually really enjoyed both and (possibly an unpopular opinion) might have actually enjoyed this one just a tad more.
👩‍👩‍👧 The heroine is brave and clever, and I loved the slow trickle of how her magical abilities were introduced. I enjoyed all the different female characters she meets along the way, the relationship with her sister and the female solidarity between her and the various women working in the palace.
👹 Although the marriage is obviously a crucial part of the plot, there was no real romance to this story except perhaps a spark of interest towards the end. Lo-Melkhiin (or the demon possessing him) is obviously evil and threatening. I was genuinely scared for the girl at some points and I really liked that the author didn't make excuses for him.
👩 One really odd thing about the story was that apart from Lo-Melkhiin and some of the supporting characters, no one is given a name — just referred to as 'my sister' etc. I actually didn't notice any of this except 'Lo-Melkhiin's mother' for the longest time, so obviously the author makes it work, but I imagine this could annoy some people.