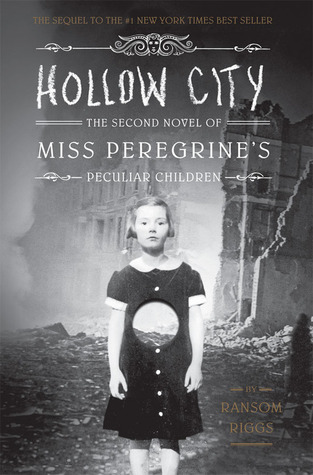 Hollow City
Author: Ransom Riggs
Series: Miss Peregrine's Peculiar Children, #2
Genres/ subjects: Fantasy, YA, paranormal, historical
Rating: ***½
This second novel begins in 1940, immediately after the first book ended. Having escaped Miss Peregrine's island by the skin of their teeth, Jacob and his new friends must journey to London, the peculiar capital of the world. Along the way, they encounter new allies, a menagerie of peculiar animals, and other unexpected surprises.
"Laughing doesn't make bad things worse any more than crying makes them better."
I'm still determined to finish this series before watching the movie. This installment maintains the creepy-factor of the original but to a lesser degree.  Instead this one is far more action-packed, feeling more like an adventure story. In fact, this story reminds me of Rick Riordan's stories – a quest to restore Miss P to her human form, and various encounters with hollowgasts and other Peculiars along the way – not that this is a bad thing!
It's nice to see a bit more of the children from the island, getting to know more about them all, and to meet some new Peculiars along the way. The personalities of the character still seem a little 2D and underdeveloped but that's not really the point of these books – the plot and world-building are far more important.
The plot is full of almost non-stop action, moving from one encounter to the next. It expands the Peculiar universe, letting us see how other Peculiars live and how their society is managed. I particularly liked Miss Wren's menagerie on a mountaintop, which was full of unusual and Peculiar animals. The ending is a complete blast ending on an epic cliffhanger and containing a twist with Miss Peregrine I absolutely did not see coming.