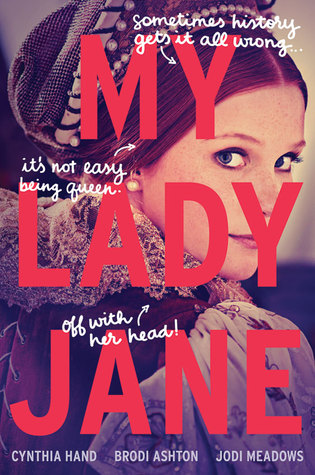 My Lady Jane
Authors: Cynthia Hand, Brodi Ashton, Jodi Meadows
Genres/ subjects: YA, fantasy, historical, romance
Rating: *****
The comical, fantastical, romantical, (not) entirely true story of Lady Jane Grey. In My Lady Jane, coauthors Cynthia Hand, Brodi Ashton, and Jodi Meadows have created a one-of-a-kind fantasy in the tradition of The Princess Bride, featuring a reluctant king, an even more reluctant queen, a noble steed, and only a passing resemblance to actual history—because sometimes history needs a little help.
At sixteen, Lady Jane Grey is about to be married off to a stranger and caught up in a conspiracy to rob her cousin, King Edward, of his throne. But those trifling problems aren't for Jane to worry about. Jane is about to become the Queen of England.
"Dearest Jane, Sorry I made you marry a horse. Your father-in-law is trying to kill me. Send help."
Oh my God. I don't have words for how much I adored this book! It covers so many different bases – it's an alternate history, a fantasy, a romantic-comedy and a struggle for the crown of England. And its's so much fun.
I love this version of Jane Grey, usually a footnote in the history books. She's bookish and stubbornly brave – she'd fit in perfectly with Belle, Hermione Granger and Annabeth Chase. The other characters are wonderful too – smarmy Lord Dudley, sweetypie Edward, brilliant Bess and nice-but-slow G – and Jane has hurtled up my list of favourite book heroines.
The plot is wonderful, covering the Austen-esque awkward introduction and getting to know you, some Game of Thrones worthy political machinations and an fast-paced action packed ending. The story covers a horrible period of British history, but in using some fantasy elements (Catholics and Protestants become Verities and shape-shifting Eðians) and plenty of tongue-in-cheek references (the Red Wedding anyone?), the authors have managed to create something light-hearted and hysterically funny, with hidden depth.
I loved seeing which animal form each of the Eðians took. I really want a Pottermore-style Find Your Eðian Form website now though. Also, as much as I was so excited to be reading a standalone (how often does that happen?),  I now desperately wish there was a sequel because I don't want to let Jane and the gang go.