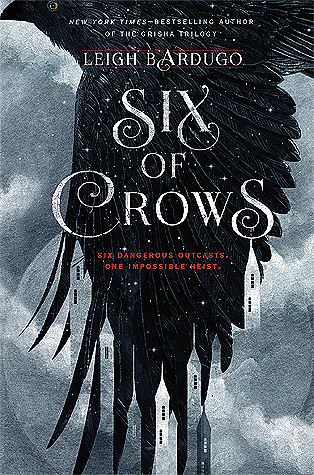 Six of Crows
Author: Leigh Bardugo
Series: Six of Crows, #1
Genre/ subjects: YA, fantasy, heist
Rating: ****½
Ketterdam: a bustling hub of international trade where anything can be had for the right price—and no one knows that better than criminal prodigy Kaz Brekker. Kaz is offered a chance at a deadly heist that could make him rich beyond his wildest dreams. But he can't pull it off alone…
A convict with a thirst for revenge.
A sharpshooter who can't walk away from a wager.
A runaway with a privileged past.
A spy known as the Wraith.
A Heartrender using her magic to survive the slums.
A thief with a gift for unlikely escapes.
Kaz's crew are the only ones who might stand between the world and destruction—if they don't kill each other first.
"No mourners. No funerals."
This brings me up-to-date with by Leigh Bardugo reading (as I'll be getting Crooked Kingdom at the signing – I don't want to wait *sob*). This post will be pretty short because there's already been dozens of brilliantly written reviews in the lead up to Crooked Kingdom's release.
I'm going to jump onto the bandwagon and say that I straight-up loved this book. It was great fun, bursting with action and added depth to the Grisha-verse by expanding out the world. My favourite characters were Kaz, Inez and Nina – which seems to be pretty standard from what I've seen – they seemed to have the most complex personalities and backstory. I really enjoyed how different Ketterdam felt from Ravka, and that this story provided a contrasting type of plot – a fine-tipped point as opposed to the epic sweep of Alina's story.
Overall, I think I may prefer the Grisha trilogy as a whole, but Six of Crows as an individual book. Another great story, that has me desperate to read the second half of this duology. Leigh Bardugo has definitely been on of my best author finds this year.