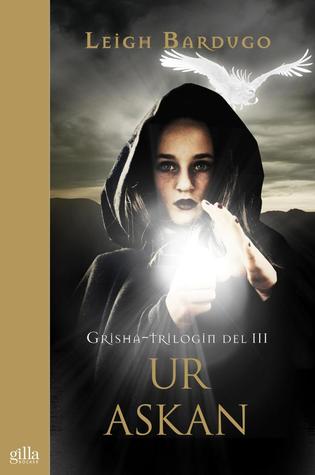 Ruin and Rising 
Author: Leigh Bardugo
Series: The Grisha, #3
Genres: YA, fantasy
Rating: *****
The capital has fallen.
The Darkling rules Ravka from his shadow throne.
Now the nation's fate rests with a broken Sun Summoner, a disgraced tracker, and the shattered remnants of a once-great magical army.
Deep in an ancient network of tunnels and caverns, a weakened Alina must submit to the dubious protection of the Apparat and the zealots who worship her as a Saint. Yet her plans lie elsewhere, with the hunt for the elusive firebird and the hope that an outlaw prince still survives.
Alina will have to forge new alliances and put aside old rivalries as she and Mal race to find the last of Morozova's amplifiers. But as she begins to unravel the Darkling's secrets, she reveals a past that will forever alter her understanding of the bond they share and the power she wields. The firebird is the one thing that stands between Ravka and destruction—and claiming it could cost Alina the very future she's fighting for.
"I'm the Sun Summoner. It gets dark when I say it does."
I adored this book. It was absolutely the perfect ending to a wonderful series. All the characters had there moments, the plot was full of twists and turns and there was an epic finale.
As much as I loved everything, my biggest surprise in this installment was Mal.
In the first two books I kind of felt like he was the least interesting of the three leading men. The Darkling has a bad-boy sexually and Nikolai is a complete Prince Charming but Mal just felt a bit… Meh? I was pretty much certain The love triangle (square?) would end in Alina/Mal and I was sadly resigned to it. This book though! Mal showed so much growth from the oblivious boy of book one, or the jealous boyfriend of book two. He was willing to sacrifice himself for others and showed himself to be someone who could be worthy of Alina.
Some other moments I enjoyed in this book were Genya getting to stand up to the King, the girls bonding sessions, Baghra's sass and sacrifice and both the heart-wrenching moments between Alina and Mal and  Alina and Aleksander.
Definitely a five-star ending to a wonderful and original series.