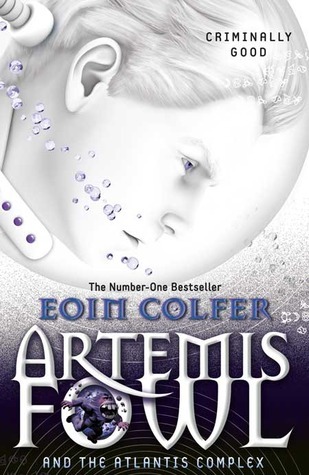 The Atlantis Complex
Author: Eoin Colfer
Series: Artemis Fowl, #7
Genres: YA, fantasy, urban fantasy
Rating: **
ARTEMIS FOWL HAS LOST HIS MIND…JUST WHEN THE WORLD NEEDS HIM MOST
Artemis has committed his entire fortune to a project he believes will save the planet and its inhabitants, both human and fairy. Can it be true? Has goodness taken hold of the world's greatest teenage criminal mastermind?
Captain Holly Short is unconvinced, and discovers that Artemis is suffering from Atlantis Complex, a psychosis common among guilt-ridden fairies—not humans—and most likely triggered by Artemis's dabbling with fairy magic. Symptoms include obsessive-compulsive behavior, paranoia, multiple personality disorder and, in extreme cases, embarrassing professions of love to a certain feisty LEPrecon fairy.
Unfortunately, Atlantis Complex has struck at the worst possible time. A deadly foe from Holly's past is intent on destroying the actual city of Atlantis. Can Artemis escape the confines of his mind—and the grips of a giant squid—in time to save the underwater metropolis and its fairy inhabitants?
 After how much I enjoyed the last couple of Artemis Fowl books, this one was a big disappointment.
The main problem I think, was the whole premise of Artemis losing his mind to Atlantis Complex. Artemis, with his genius and his insanely complicated but ultimately successful plans, is very much the key to these books. Without his scheming and the knowledge that, somehow, he was three steps ahead, everything fell short around it.
The threat and the bad-guy didn't feel like they had the same high stakes as other books have had, even though, in theory they were. Even the chemistry between Holly, Foaly and Mulch felt lacking without Artemis in the middle of it all.
The only part I was really keen on was Butler and the return of Juliette.
A disappointing installment in a usually fun and entertaining series.