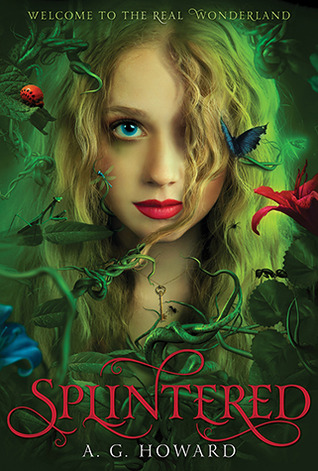 Splintered
Author: A. G. Howard
Series: Splintered, #1
Genres: YA, romance, retelling, fantasy
Rating: ****
Alyssa Gardner hears the whispers of bugs and flowers—precisely the affliction that landed her mother in a mental hospital years before. This family curse stretches back to her ancestor Alice Liddell, the real-life inspiration for Lewis Carroll's Alice's Adventures in Wonderland. Alyssa might be crazy, but she manages to keep it together. For now.
When her mother's mental health takes a turn for the worse, Alyssa learns that what she thought was fiction is based in terrifying reality. The real Wonderland is a place far darker and more twisted than Lewis Carroll ever let on. There, Alyssa must pass a series of tests, including draining an ocean of Alice's tears, waking the slumbering tea party, and subduing a vicious bandersnatch, to fix Alice's mistakes and save her family. She must also decide whom to trust: Jeb, her gorgeous best friend and secret crush, or the sexy but suspicious Morpheus, her guide through Wonderland, who may have dark motives of his own.
I don't really have much to say because I loved this book. I thought is was a great, fast paced adventure.
The strongest element of the story was the way that all of the characters of the original Alice books where woven in, but in completely new and interesting ways. Obviously in this aspect Morpheus/ The Caterpillar was the star, an unpredictable character whose past I'd love to know more about. He wasn't the only wonderful twist though — the Twid sisters were so different from the usual interpretation and their lair was brilliantly creepy. I thought the twist at the end about Red and Alice was clever and well done, although my heart went out to little Alice.
The only thing I really had an issue with was the love triangle aspect. For one thing Alyssa seemed to agonise over which she preferred and over Jeb's real feelings towards her at the most inopportune times, especially considering how much was at stake. For another thing, neither Jeb nor Morpheus seemed like that much of a prize – one was to too controlling, the other too manipulative.
Other than that though I really enjoyed the story and look forward to seeing what adventures Wonderland has is store for Alyssa next.